Page 7: Sleeves
Padmes Senate dress has three different layers of sleeves I want to show here:
The first one is very narrow and looks like a gauntlet. It has a more violet shine than the other fabrics.
The next pair of sleeves is part of the second layer of clothing. It is made from the same silk as the bodice, the skirt and the tabard. In addition, the embroidery of the tabard is repeated here. However, it is hard to tell whether it is sewn to the bodice or to the coat, because we do not now the cut of the bodice.
The most massive look is generated by the third pair of sleeves, which are directly sewn to the coat and are made of the same velvet.
---
Part 1: Stulpen
Not done yet…
---
Part 2: Embroidered sleeves
I made the sleeves when I started the bodice, because they are made of the same fabric. As a result, I had to strengthen the material somehow. Therefore, I did sew a strong layer of black cotton directly to the silken outer one. Afterwards, they were treated as one layer, which was important fort he embroidery. On this photo you can see a part of my design.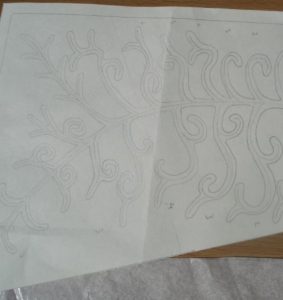 For the embroidery I used Soutache, for which I do not know the English term. I already used this material made of Viscose when doing the bodice. First, I redraw the sketch done on thick paper on very thin paper, which can be seen through. In the next step I transfered it to the fabric.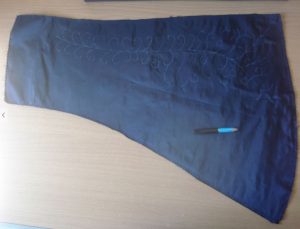 Since I was afraid the fabric could move while I do the embroidery, I did some machine-stitching on the middle of the pattern. This cannot be seen later.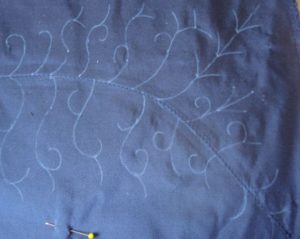 A layer of blue cotton should be added later.
---
Part 3: Some information on the velvet sleeves
---
Back to the Main Page
Back to Page 6
Further Reading: Page 8
BacMerken
Merken