Sewing does not mean you have to spend tons of money on your freetime activity. Medieval clothing can be made for a very low price, for example. But other styles with more elaborate patterns and a bigger amount of fabric needed may seem expensive at first sight, so here are a few suggestions on saving some money when buying fabric.
My very first project, the Brunhild armor, was made from old leather that was a couch once.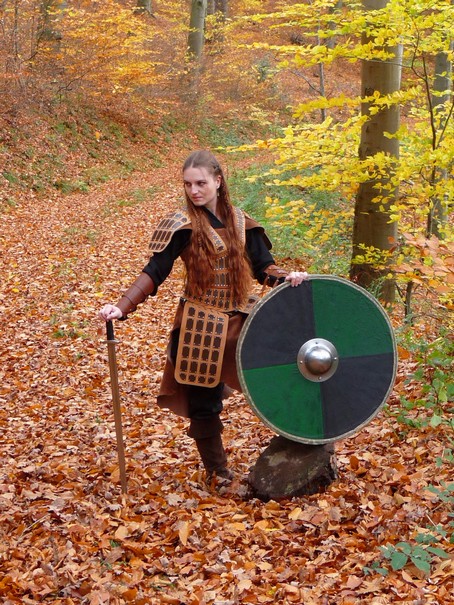 Simple Georgian gowns do not need a lot of money as well (in case you already have the undergarments). This Quaker dress did cost me only about 20 Euro.
During sales, I often buy fabric, even if I am not sure for which style. Therefore, 8 metres are a length you can use for everything.
The following project was made from leftover pieces of fabric that I purchased at a local store.
Even silk does not need a big fortune, if you do not focus on your favourite color and buy it second-hand on eBay as leftover-pieces.
Since accessories and things like lace are very expensive when purchased at a store, I often order large quantities online. One day, I will need all of it, so it is worth spending a little bit more money at one time to save in the future. An overall of 1200 (or even more) acrylic beads were used on this dress for example.
Another great source for fabric is Ikea, in case it exists in your country. They often have 18th century patterns on their fabric. My Anglaise was made from a pair of curtains for example.
And another one…
Even more dresses (photo by exjayes)…
This Viking Age dress was made from an Ikea plaid named Strimlönn:
With two packages of (Ikea) bedcloth, you can get about ten yards of fabric, which is enough for a bustle-style dress.
My most elaborate dress (at the moment) was made from a pair of curtains as well. This time, I had to order it in the USA and ship to Europe, because it was not available here.
I do not like to produce a mockup, but if you do, make sure to use old curtains or bedsheets or whatever does not cost anything at all. Sometimes they turn out great due to the strange patterns.
My very first bustle dress was made from an Ikea fabric, that did only cost 3 Euro per Metre, so that the whole dress did only cost under 30 Euro.
Ask your relatives if they have any old bedsheets. Linen and cotton ones withpout an elastic are often not used anymore, so that they can have a second life serving as historical undergarments.
Let us talk about old tablecloth: They can be useful, too.
Nearly all my Georgian jackets are made from leftover fabrics, either from my stash or bought at a local store. By the way, maybe you realized the stomacher was made from a leftover piece as well.
If you are crazy about a historical pattern, but do not want to spend a lot of money on a reproduction fabric, you can always try to paint it yourself.
Sometimes, stores want a lot of money for simple accessories and basic material. Instead of spending 30 Euro, I simply created my own Georgian Bergere base by wet-forming a round piece of straw normally used as tablecloth.
Sometimes you have to be very creative, because some historical supplies do not exist anymore. For example, whalebone cannot be purchased any more (which is good), so I use cable ties as a substitute.
What to do with leftover pieces? Make a hanging-pocket for your Georgian attire.
If you are a experienced seamstress, you should definetely think about drawing your own patterns. There are plenty of books about this topics and especially concerning historical shapes, you can save a lot of money. As an alternative, buy some patterns that do not cost a lot and change them into a base pattern.