The Making-of this dress is rather complicated. It all began with the plans to craft a late medieval Burgundian dress, for which I bought 4,5 yards of cotton velvet. Some time later, I dismissed this idea and favoured a 1870s bustle style. I started by cutting out the skirt, but it ended up looking horrible due to the shape of the patterns. Therefore, I decided to use straight rectangular skirt pieces, which draw my attention to the 1850s.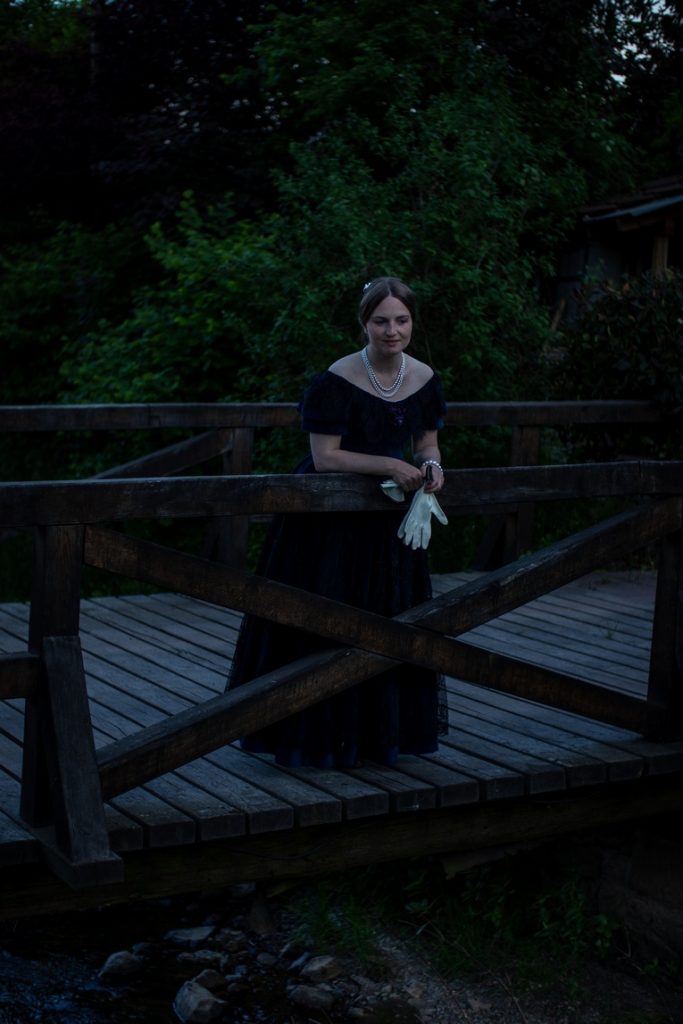 Due to the shape of the old pieces, the resulting new ones were rather narrow. However, this should not be a huge problem, because the seams are hidden by the lace anyway. By the way, I used a 61x118inch wide piece of fabric and cut it into two layers. As a result, the upper one contains the selvedge, that is very decorative by nature, while the one on the bottom got some additional lace trimming for a corresponding look.
During the 1850s, the sewing machine came "into fashion", which means that the long seams were finished with speed. Unfortunately, I made a huge mistake when drafting the pattern of the bodice: It is about ¾ too short, so that you can spot the corset on some of the photos we took at the first day. This could be fixed easily by adding some hooks.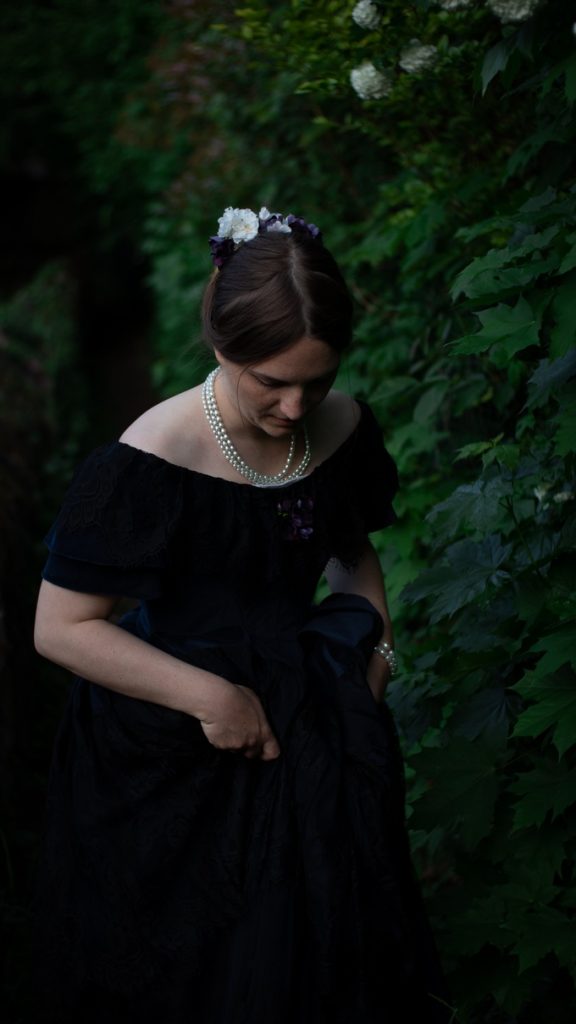 Furthermore, I spotted a problem with the skirt, too: Since the velvet is very heavy, the petticoats cannot create enough volume. Therefore, I decided to wear it with a cage crinoline from this day on. This piece is another invention of the 1850s. To sum it up, this project was not finished in a direct or perfect way. However, I learnt a lot and really love the design.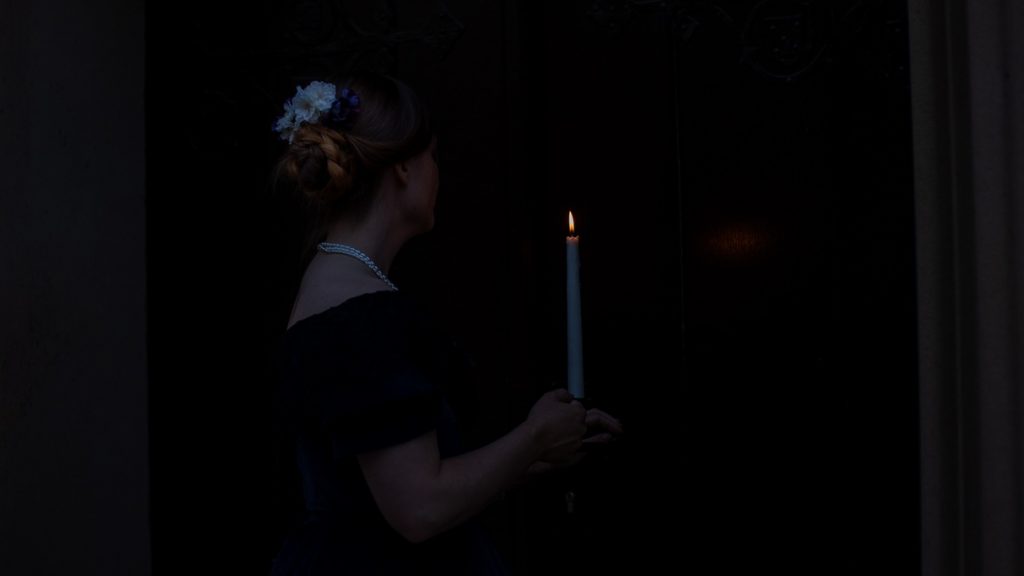 In the last step, I want to draw your attention to the bodice. I did not only add handsewn eyelets, but also had to finish a lot of details without the sewing machine. The leftover pieces of the lace was used on the neckline to complete the design. Some small flowers are used as an eyecatcher. The sleeves are double-layered.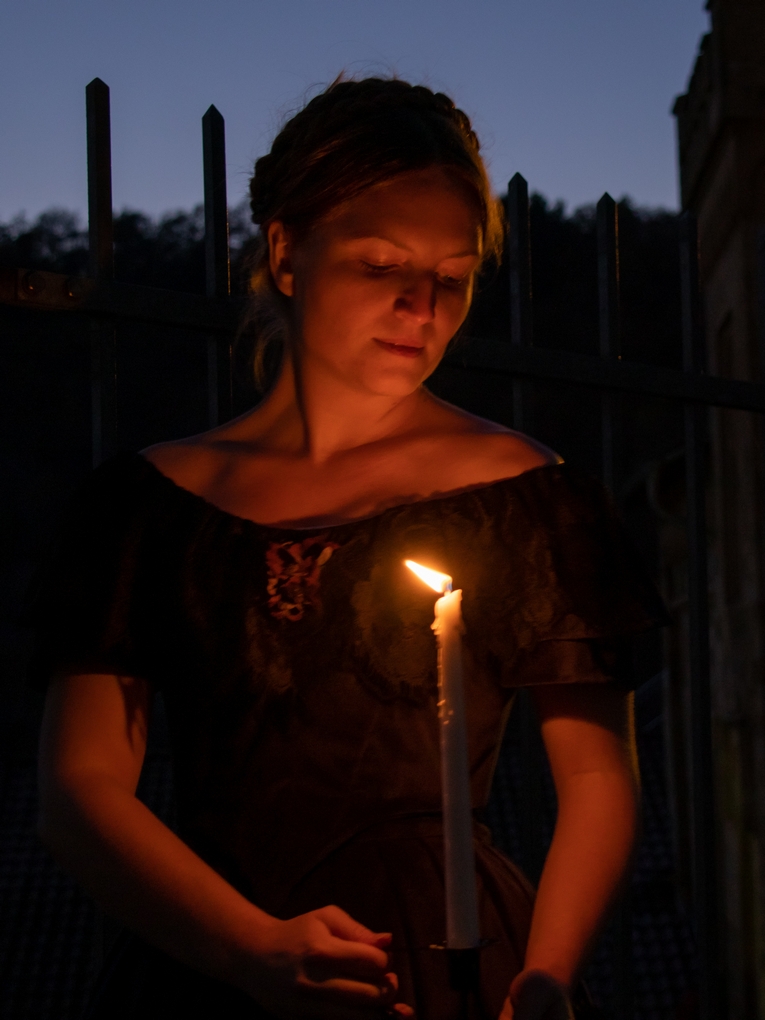 I am very happy to have Franke777 as a photographer and Nils for support. Thanks a lot! We did two different shootings to experiment with the light.