Im neuesten Spiel der Reihe "God of War" lernen die beiden Protagonisten recht früh in der Geschichte eine Waldhexe kennen, die sich später mit Namen Freya vorstellt. Diese lebt zurückgezogen in der Natur und hat magische Fähigkeiten. Allerdings lastet ein Fluch auf ihr, der ihr verbietet, ein Lebewesen zu verletzen. Somit sind Schwert und Bogen eher Erinnerungen an ihre Vergangenheit, über die ich aber noch nicht allzu viel verraten werde, um euch nicht den Spielspaß zu nehmen.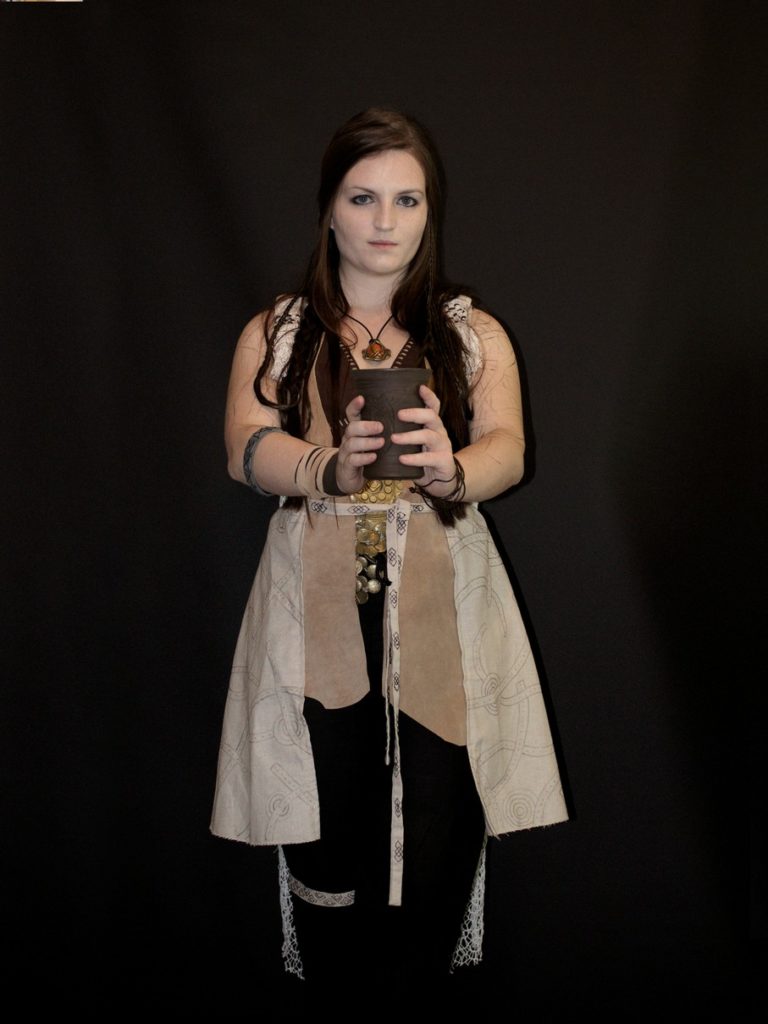 Freyas Kleidung ist somit ein Mix aus Erinnerungsstücken, magisch anmutenden Extras und natürlichen Materialien. Sie läuft die ganze Zeit über barfuß. Im "God of War" Cosplay Guide werden viele Details beschrieben und erklärt, aber auch hier ist die Spoilergefahr sehr groß. Diesen Guide habe ich hauptsächlich als Infoquelle verwendet und kann ihn sehr empfehlen.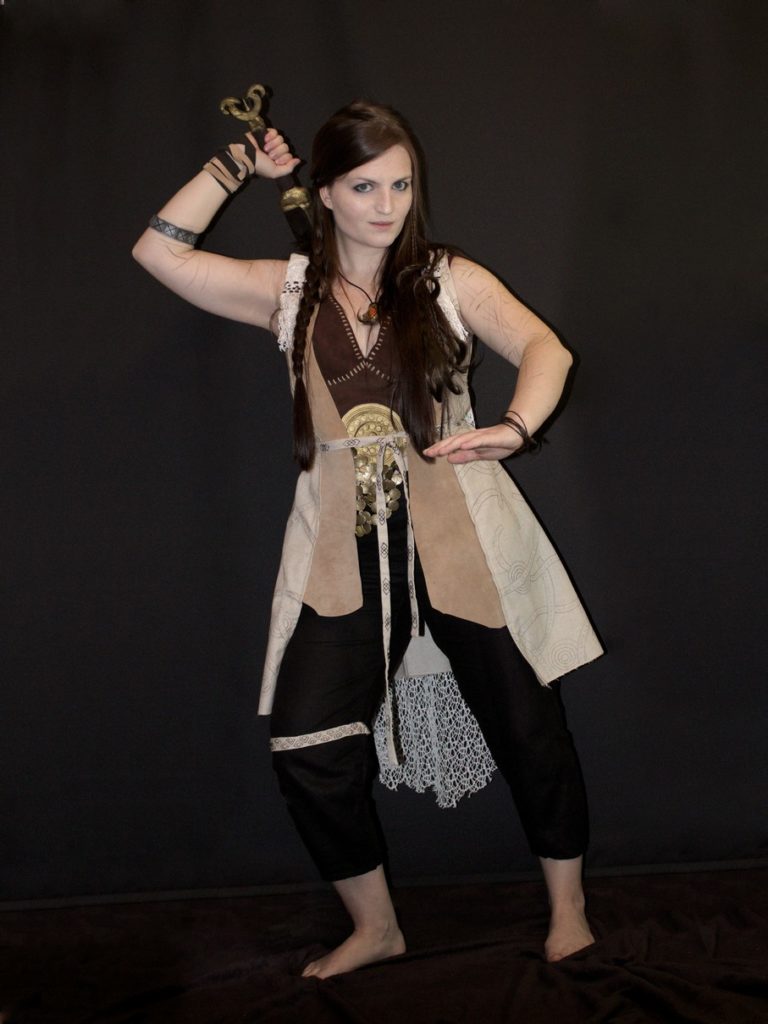 Da dieses Projekt hauptsächlich aus Resten gefertigt werden sollte, habe ich nur die münzähnlichen Metallteile, einen Loopschal sowie ein paar Clip-in Haarsträhnen gekauft, die kompliziertes Frisieren vor Conventions vermeiden sollen. Alles andere stammt aus meinem Fundus. Dazu zählt erst einmal eine ältere Mittelalterhose aus Leinen, die nur 3/4 lang ist und ein weiterer Leinen- oder Baumwollmixstoff, den ich zu ihrer Weste gemacht und mit Stoffmalstift verziert habe. Daran schließt sich direkt die untere Weste aus Lederresten an, damit ich nicht eine zweite Schicht nähen musste. Somit waren die größten Teile des Cosplays bereits fertig.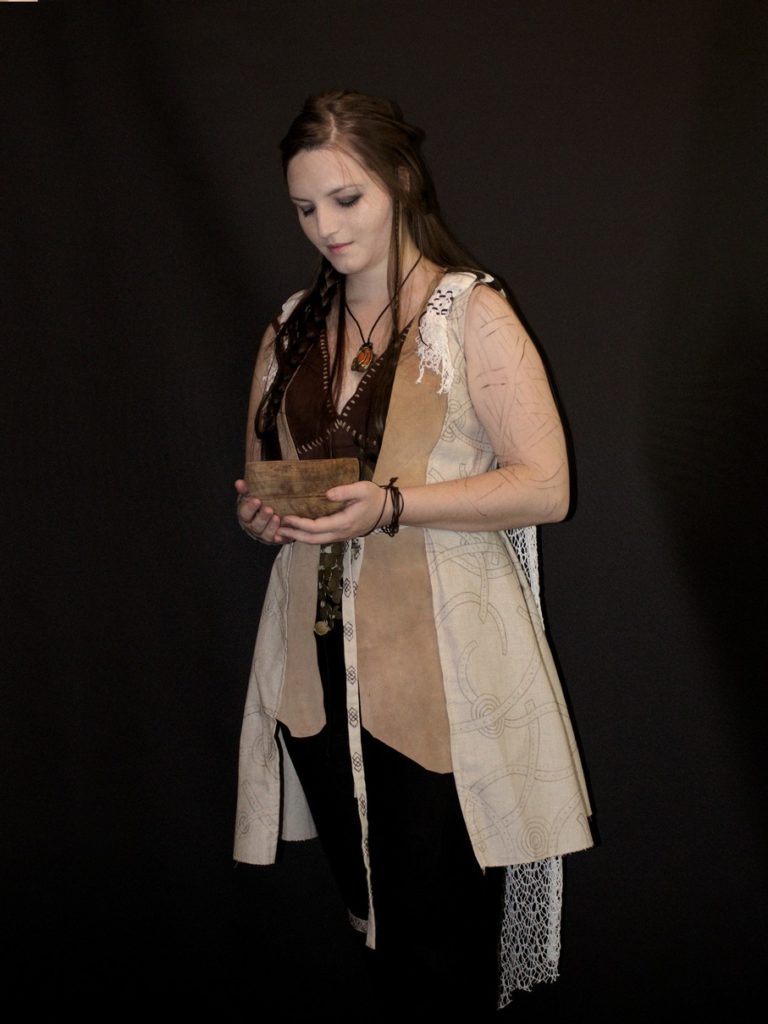 Aus Foam habe ich anschließend die große Brosche auf Bauchhöhe gefertigt und mit Acrylfarbe golden angemalt bzw. angesprüht. Darunter liegt das Lederoberteil, welches zur Bequemlichkeit hinten aus dehnbarem Jersey besteht und kleine Verzierungen aus Lederband aufweist. Zusätzlich zu diesen Details habe ich noch einen Stoffgürtel zweiseitig bestickt und mehrere Armbänder hergestellt. Der Umhang wurde aus einem Loopschal gefertigt und kunstvoll befestigt. Viel Arbeit hat hingegen das Schwert gemacht. Es besteht aus den unterschiedlichsten Materialien. Ein paar davon sind auf der making-of Seite zu sehen.