Hier ist die Dinnerversion der Karonüre zu sehen. Charakteristisch ist der viereckige Ausschnitt und die mittellangen Ärmel. Ein solches Oberteil ist gut geeignet für Events, die am Abend stattfinden, aber nicht die tiefen Balltaillen erlauben, wenn man es grob zusammenfassen will. Sie ist nach einem Originalkleid von 1871-72 gefertigt, das in Patterns of Fashion 2 sehr detailliert beschrieben ist. Ich habe jedoch aufgrund von persönlichem Geschmack und der Tatsache, dass das Outfit aus einem älteren Kleid hervorgegangen ist, ein paar Änderungen vorgenommen. Genaueres zur langen Änderungsgeschichte ist unter "Aus alt mach neu" zu finden. Außerdem habe ich aus dem Stoff noch eine Balltaille gefertigt, die ihre eigene Seite hat.
Die Taille ist aus Baumwollstoff gefertigt, schließt vorne mit Häkchen und Ösen und besitz Verzierungen aus grünem Baumwollstoff, der von der 1861er Riding Habit übrig war. Das Schößchen bildet eine optische Verlängerung und fällt hinten über die charakteistische Tournüre der Zeit. Die Ärmelaufschläge erinnern etwas an Rokoko-Mode. Als nächstes fällt der passende Überrock ins Auge, auch als Tablier bekannt. Eine breite Reihe aus gefaltetem Stoff und weitere grüne Einfassungen bilden den gebogenen Saum. Darunter ist der untere Teil des Rockes zu sehen. Er besteht aus sechs Bahnen und besitzt ebenso eine Reihe Band am Saum, dieses Mal in Kellerfalten gelegt. Dort ist er außerdem mit einer weiteren Schicht Baumwolle verziert.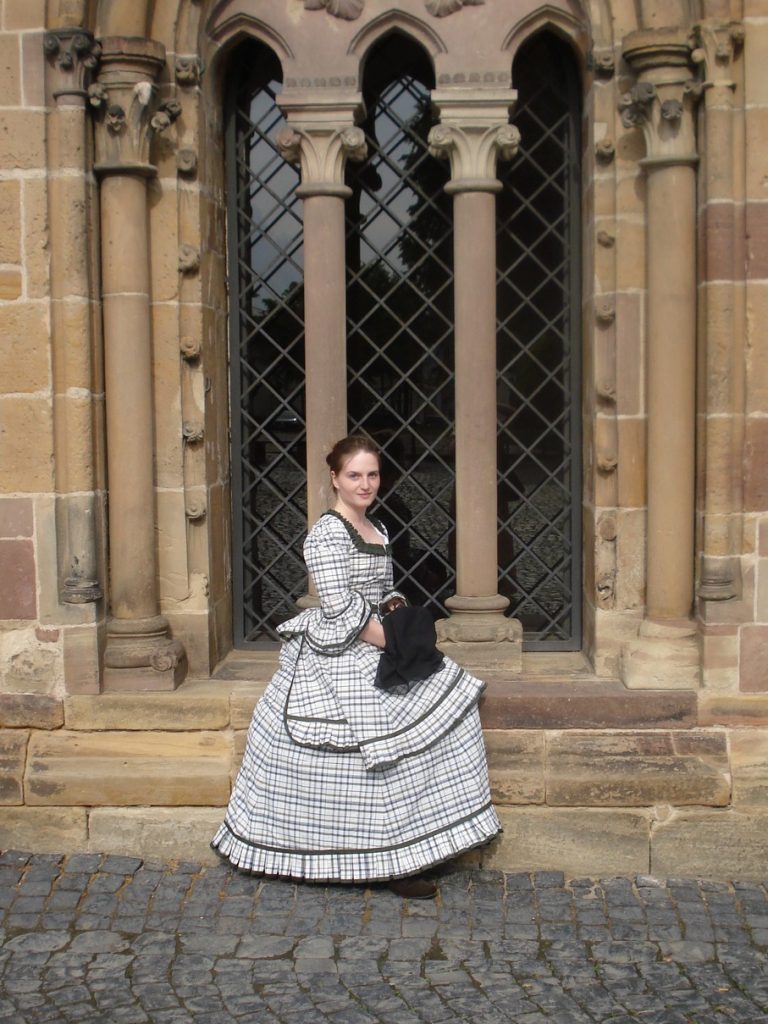 Dazu trage ich eine einfache Chemise (ursprünglich Rokoko) oder ersatzweise etwas Blusenähnliches, ein Korsett, den Tournürenunterbau und einen gerüschten Baumwollunterrock. In einem der Bilder trage ich außerdem den kleinen Teardrop-Hat, den ich ursprünglich für die ältere Tounüre gefertigt hatte und für den es hier auch eine Anleitung gibt. Während die Taille und die Chemise selbst gezeichnet sind, ist das Korsett eine unzählige Male geänderte Version eines Simplicity Schnittes. Für den Tournürenrock habe ich dann Maße aus "Period Costume for Stage and Screen: Patterns for Women's Dress, 1800-1909" genommen und diese für das Karomuster abgeändert. Das Tablier und der Unterrock sind ebenfalls daraus hervor gegangen, auch wenn man das aufgrund der Änderungen wohl nicht mehr erkennen könnte.
Merken
Merken
Merken