Anna Strong – Washington's Spies
Dieses rote Rokokokleid basiert hauptsächlich auf einer Vorlage aus "The Cut of Women's Clothes" auf Seite 72. Allerdings habe ich statt Wolle Leinen genommen. Davon konnte ich zwei Reststücke auf dem Stoffmarkt ergattern, die jeweils unter 140x140cm hatten, wodurch ich sehr puzzeln musste, um alle Teile darauf zu bekommen. Inspiriert wurde das gesamte Projekt ursprünglich von Anna Strongs rotem Kleid aus Turn, aber letzten Endes wurde es dann doch ganz anders. Der Stecker ist handbestickt mit drei Farben handgefärbtem Wollgarn, das ich auf einem Mittelaltermarkt ergattern konnte. Mein Freund trägt dazu seine Uniform, die ich im Kontext des großen Kostümtreffens in Schwetzingen vom letzten Jahr schon einmal beschrieben habe.
Das Kleid wurde komplett per Hand genäht. Obwohl das Originalkleid in die Mitte des Jahrhunderts datiert wird, trage ich es für die 1770er. Altmodisch kann man durchaus mal sein. Das Kleid besitzt einen Stecker, aber einen englischen Rücken, genauer genommen einen En Fourreau Schnitt. Dabei verlaufen die Rückenfalten des Oberteils bis in den Rock. Die Kombination beider Elemente konnte ich besonders in den 1740ern und 50ern beobachten, wobei die Front dabei oft eine zusätzliche Falte aufweist. Das Schnittmuster ist selbst gefertigt und basiert auf "The Cut and costruction of Women's Clothes", sowie "Fashion in Detail 1" und "Costume in Detail"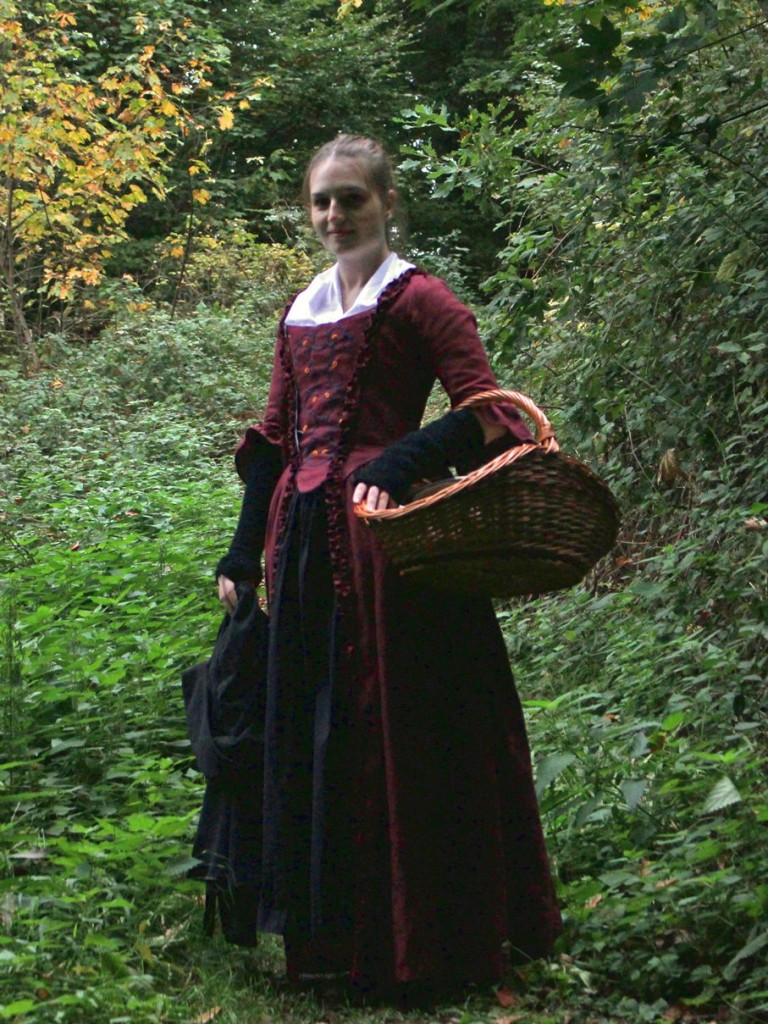 Dazu habe ich einen älteren Baumwollunterrock getragen, der jedoch per maschine gefertigt ist und demnächst ausgetauscht werden soll. Die Stulpen in Nadelbindtechnik sind etwas ungewöhnlich. Stricken war vermutlich häufiger, obwohl Nadelbinden in Skandinavien bis heute als Handwerkstechnik überliefert ist. Hinzu kommen ein handgenähtes Leinenfichu, ein Kurzcape aus Wolle und den Hut meines schwarzen Round Gowns, der den Stil der 1780er bereits voraus nimmt.
---
Anleitungen
Zu diesem Kleid gibt es mehrere Anleitungen in der Sammlung:
---
Mehr Rokoko:
Merken
Merken
Merken
Merken