Im Nachhinein war es wohl der Film "Der Patriot", der mich schließlich dazu brachte, Kleidung des 18. Jahrhunderts zu nähen und mich dabei auf amerika zu fokusieren. Dieses schlichte schwarze Leinenkleid war mein erstes Projekt aus dieser Epoche, wurde mit der Maschine genäht und damals noch über einem elizabethanischen Schnürmieder und einer einfachen Bluse getragen. Auch haben sich einige Fehlerchen eingeschlichen, die ihm jedoch nicht den Charme nehmen können. Beispielsweise habe ich vorne Häkchen und Ösen eingenäht, da meine damalige Literatur nicht erwähnt hat, dass soetwas in bestehenden Originalkleidern meist erst im späten 19. Jahrhundert eingearbeitet wurde.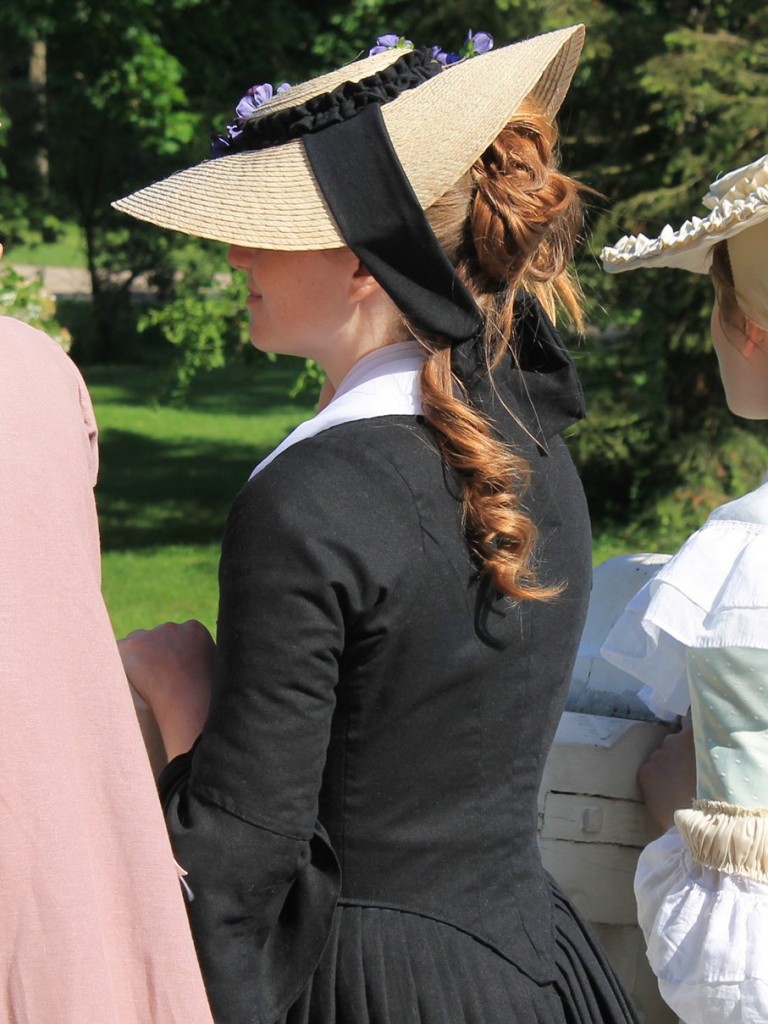 Beispiele für Leinenkleider sind selten, aber durchaus zu finden, beispielsweise in Barbara Johnson's Album of Styles and Fabrics. Sie wurden vor Allem im informellen Rahmen getragen. Beides gilt auch für das sogenannte Round Gown. Das bedeutet, dass der Ropck runherum in einem Stück genäht ist und man den vorderen Teil schürzenartig um die Taille bindet, bevor mam das Oberteil schließt. Ein gutes Beispiel findet sich in "Costume in Detail" auf Seite 30, sowie in "Fitting and Proper" Kleid Nummer 2. Der Rücken ist jedoch nicht En Fourreau geschnitten, was erst in den späten 1770ern bis 80ern auftrat. In diesen Zeitraum fällt auch der Hut, den ich aus einem Strohtischuntersetzer durch Einweichen gebastelt habe. Die Bänder sind aus demselben Stoff wie das Material, während die Kunstblumen aus Seide sind. Gefüttert ist das Ganze mit Baumwolle, die weniger häufig als ungebleichtes Leinen verwendet wurde.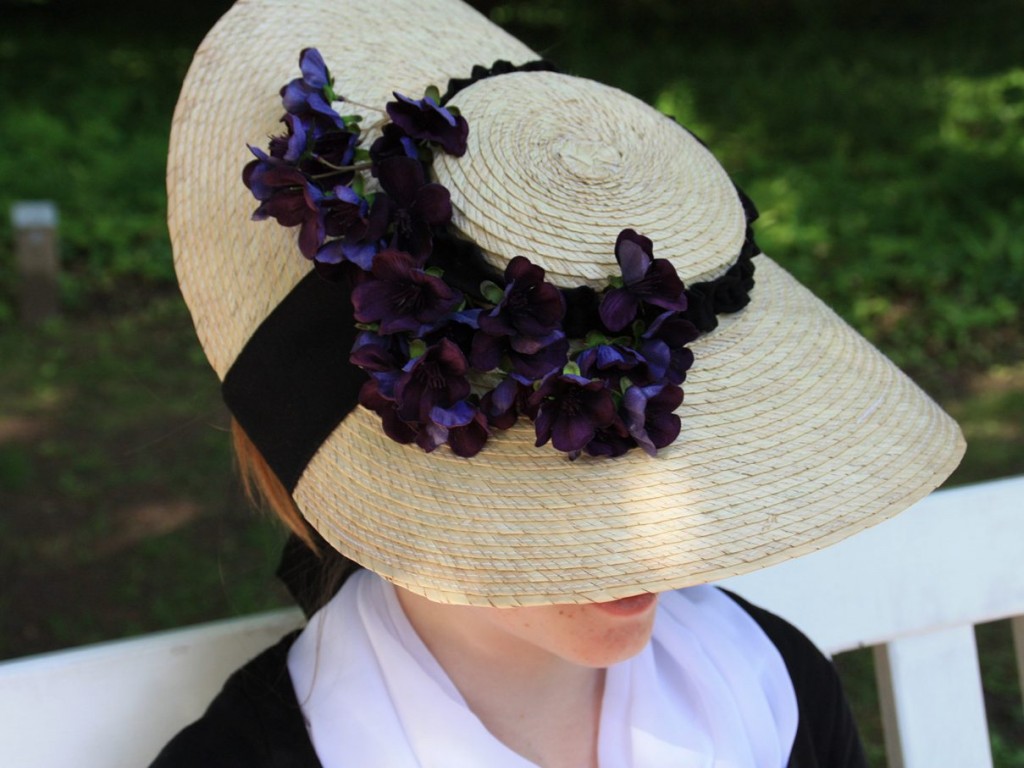 Zusammenfassend lässt sich wohl sagen, dass das Kleid mehrere eher seltene Elemente des späten Rokokos in sich vereint und damit vielleicht kein typisches Beispiel dieser Epoche darstellt, aber trotzdem historisch korrekt ist, was sich in einigen Punkten aber noch steigern lässt. Mittlerweile ist es wegen der einfachen Farbe mein Lieblingskleid für schlechteres Wetter. Leinen ist unglaublich pflegeleicht und ich liebe die Schlichtheit im Vergleich zu Hofroben derselben Epoche. Ich glaube, dass dies das historische Kleid ist, dass ich bisher am Meisten getragen habe.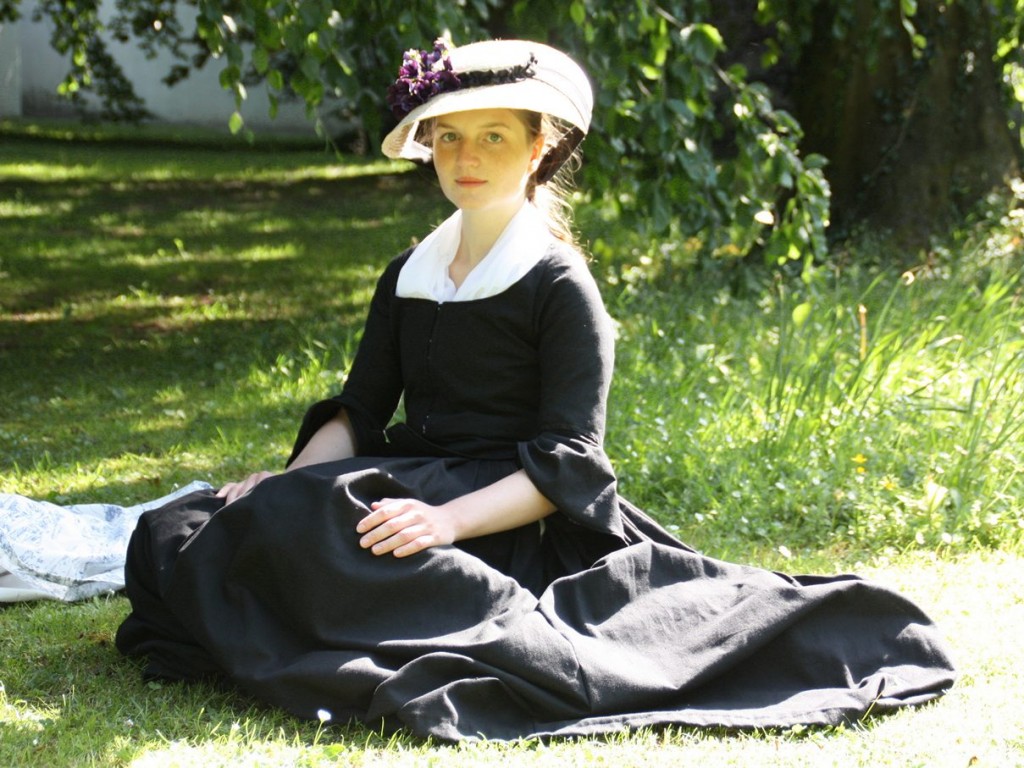 ---
Bei diesem einen Rokoko Kleid ist es natürlich nicht geblieben
---
Vielleicht bringt dich ja eine meiner Rokoko Anleitungen weiter:
---
Hier geht es zur Infoseite zum 18. Jahrhundert mit den Unterseiten
Merken
Merken
Merken