Wie bereits im Beitrag zum Claire Fraser Kostüm gesagt, wollte ich ursprünglich Kleider aus der Serie Outlander nachnähen, bin dann aber bei drei sehr unterschiedlichen Designs gelandet, da mir historische Authentizität wichtiger war/ist als ein detailgetreues Cosplay. In dem Buch "Costume close-up" fand ich ein Schnittmuster für eine Jacke, die auf ca. 1775-85 datiert wird und in der Sammlung von Colonial Williamsburg liegt. Dadurch erhielt die Jacke ihren Namen. Ich wollte bei diesen Outfits sparen und nur aus dem Bestand und Resten nähen. Daher hatte ich keinen bedruckten Baumwollstoff parat und stieg kurzerhand auf Leinen um, das ich in einem Anflug von Größenwahn dann auch noch mit einem blauen Stoffmalstift bemalte. Das Futter ist aus demselben Leinen, nur unbemalt. Es ist nicht ganz reinweiß, wurde aber mit weißem Leinengarn per Hand und mit den im Buch empfohlenen Stichen genäht. Die Schnürösen sind hingegen mit blauem Leinengarn gestickt. Die Schnur habe ich aus sechs Strängen Baumwollstickgarn geflochten. Den blauen Baumwollrock hatte ich noch von meiner Anglaise. Allerdings war er maschinengenäht, sodass ich ihn kurzerhand aufgetrennt und per Hand mit Leinengarn wieder zusammen genäht habe.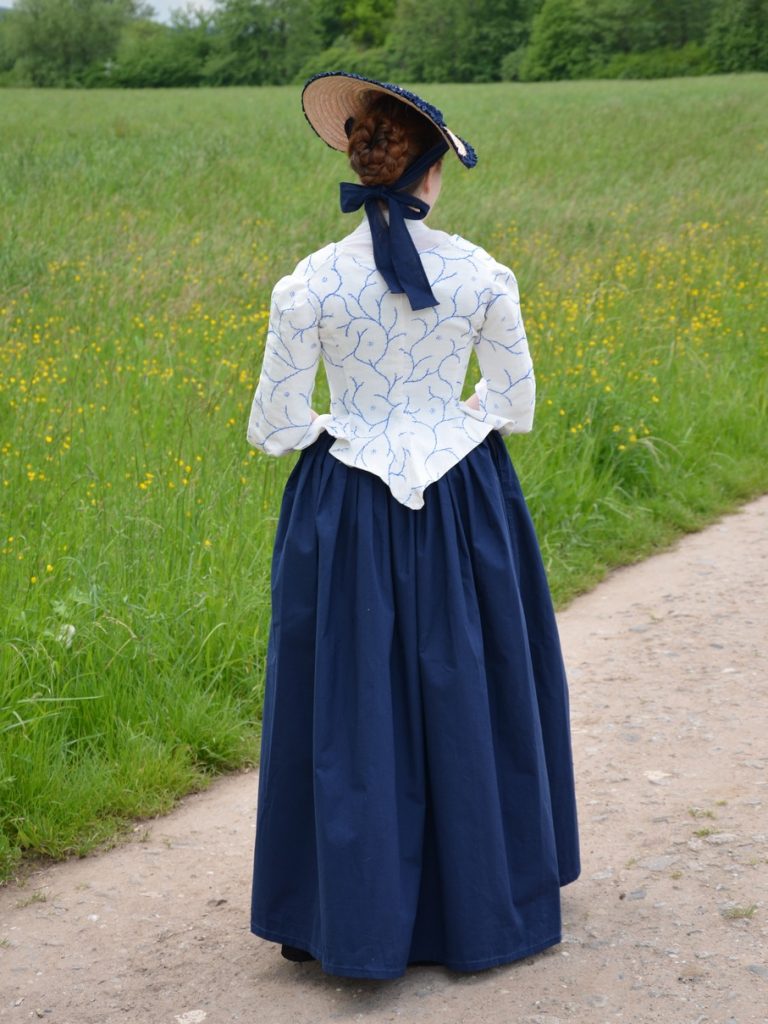 Den Text der Unterbauten kopiere ich euch schnell von der ersten Seite rein: Die Unterbauten aller drei Outfits sind gleich: Das Ganze besteht aus mehreren Schichten. Zunächst werden über einer handgenähten Leinenchemise nach Abbildungen aus "Costume close-up" und "Fitting and Proper" die Stays gezogen (das Wort Korsett gehört in das 19. Jh.). Darüber kommt dann eine Bumroll, oder Weiberspeck. Sie ersetzen sozusagen die größeren Unterbauten der formelleren Kleider bzw. die der Oberschicht. Darüber komm wiederum ein einfacher Leinenunterrock, erneut frei nach "Fitting and Proper". Ein viereckiges, einmal gefaltetes dünnes Baumwolltuch verdeckt im Gegensatz zu den Filmkostümen den Ausschnitt.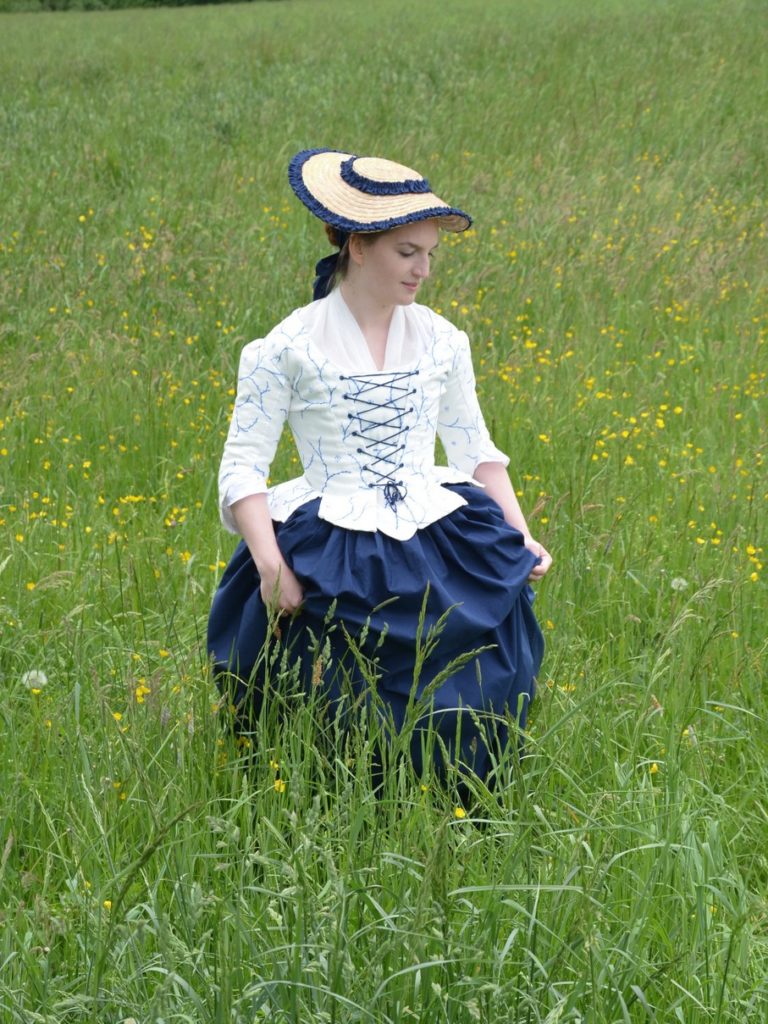 ---
Mein gesammeltes Wissen zu den Outlander Kostümen gibt es jetzt auf einer eigenen Seite.
---
Mehr Rokoko:
---
Wenn du noch mehr Infos zum 18. Jahrhundert haben möchtest, dann schau dir doch mal diese Anleitungen an:
---
Hier geht es zur Infoseite zum 18. Jahrhundert mit den Unterseiten
Merken
Merken
Merken
Merken
Merken
Merken