Dies ist das dritte Ensemble, das aus meinen ursprünglichen Entwürfen zur Serie Outlander hervorgegangen ist. Da es die wärmste Variante ist, bekam es den Spitznamen Highland Outfit. Wie die beiden anderen wurde es nur aus Beständen gefertigt. Als Vorlage diente wiederum die Jacke aus "Costume close-up", bei deren Schnittmuster ich nur die Ärmel weiter machen musste. Tatsächlich habe ich diese Jacke als erste der dreien genäht und dabei erst einmal mit den im Buch vorgeschlagenen Stichen und Leinengarn herumprobiert. Das ganze Outfit ist per Hand gefertigt. Der Oberstoff ist aus Wolle und ein Rest eines mittelalterlich inspirierten Winterkleides. Gefüttert ist die Jacke mit einem schwarzen Baumwoll-Leinengemisch, ebenfalls auf Reste gepuzzelt.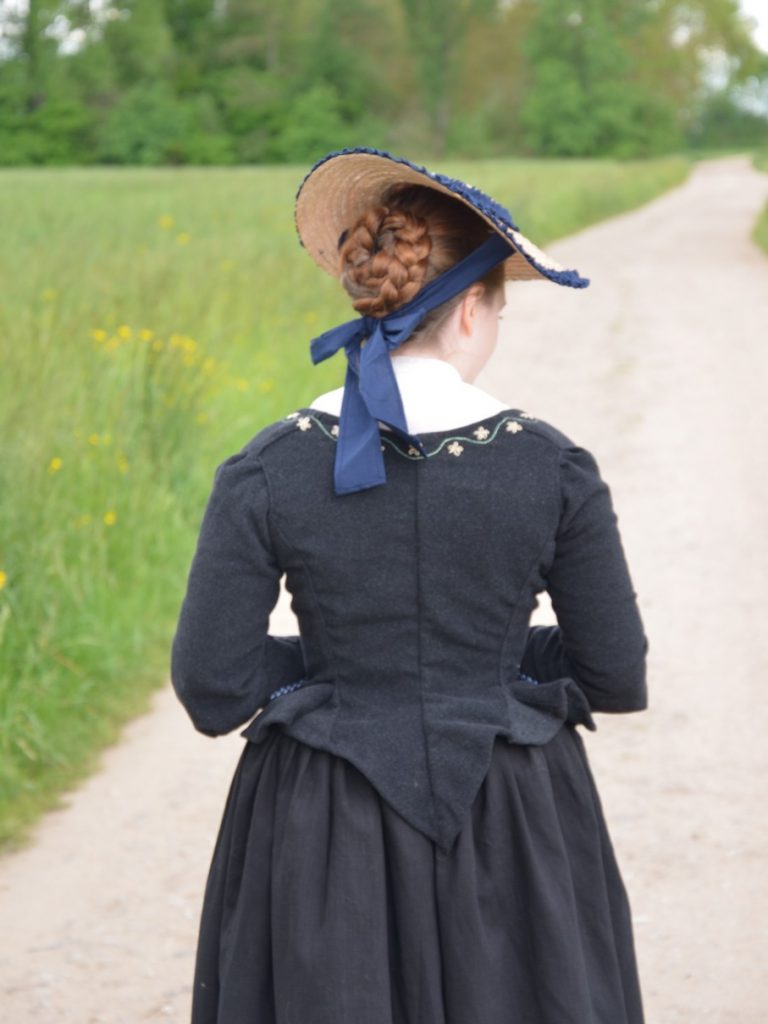 Da ich dann tatsächlich von beiden Stoffen noch etwas übrig hatte, konnte ich noch Stulpen fertigen, die ebenfalls in dem Buch abgebildet waren, wenn auch etwas klein und änderungsbedürftig. Schwarz erschien mir daraufhin etwas schlicht und ich begann ein kleines Stickprojekt. So ist die Jacke und der dreieckige Stecker (im vorderen Teil zu sehen) mit grünem und beigenem Baumwollgarn bestickt, die Stulpen hingegen mit blauem und weißem. Auch der Leinenrock ist dunkel gehalten. Ihn habe ich in einem Nähmarathon am Tag vor dem Shooting innerhalb von zehn Stunden frei Schnauze per Hand mit Leinengarn genäht, das mir dann auch noch fast ausgegangen wäre. Ihn trage ich auch zum Claire Fraser Outfit.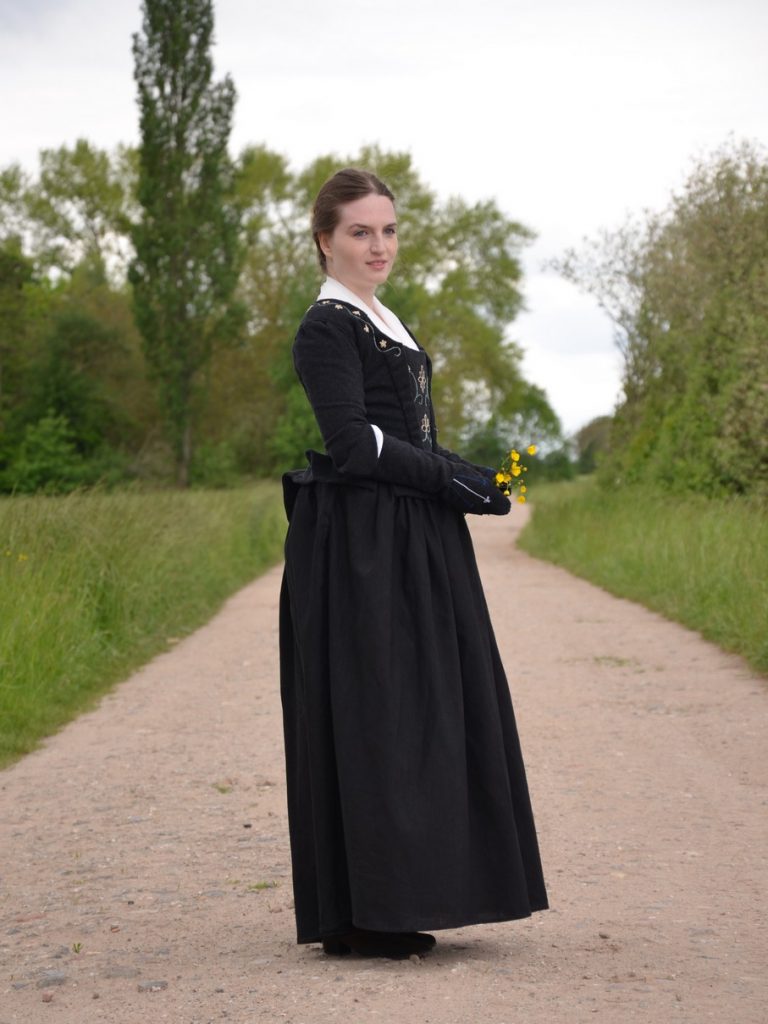 Auch hier die Kopie des Textes zu den Unterbauten: Die Unterbauten aller drei Outfits sind gleich: Das Ganze besteht aus mehreren Schichten. Zunächst werden über einer handgenähten Leinenchemise nach Abbildungen aus "Costume close-up" und "Fitting and Proper" die Stays gezogen (das Wort Korsett gehört in das 19. Jh.). Darüber kommt dann eine Bumroll, oder Weiberspeck. Sie ersetzen sozusagen die größeren Unterbauten der formelleren Kleider bzw. die der Oberschicht. Darüber komm wiederum ein einfacher Leinenunterrock, erneut frei nach "Fitting and Proper". Ein viereckiges, einmal gefaltetes dünnes Baumwolltuch verdeckt im Gegensatz zu den Filmkostümen den Ausschnitt. Zu den Unterbauten gibt es vielleicht demnächst eine Seite mit Bildern auf der Schneiderpuppe.
---
Zum Thema Outlander-Kostüme habe ich nun eine eigene Seite mit Infos und Tipps, die du mit diesem Link erreichst.
---
Mehr Rokoko:
---
Vielleicht bringt dich ja eine meiner Rokoko Anleitungen deinem eigenen Outlander-Kostüm näher:
---
Hier geht es zur Infoseite zum 18. Jahrhundert mit den Unterseiten
Merken
Merken
Merken
Merken
Merken